Straumann dental implants can bring back the benefits and sense of confidence that come with having strong, healthy teeth.
A dental implant is an artificial tooth that acts like a natural one. It's a long-term solution to replace one or more missing teeth. A dental implant replaces the entire tooth, from root to crown, and offers important benefits, like increased stability, durability, and aesthetics.
The "root" of a dental implant is a small, post-like device made from titanium or titanium zirconium. It is inserted into the jaw bone in place of a missing tooth root, and acts as a support for an artificial tooth crown.
The healing phase lasts between three and 12 weeks, depending on the individual medical situation. During this period, the implant becomes securely attached as the jaw bone grows and bonds with it—a process called osseointegration. Once healed, the artificial root acts as a base for an individual crown, multi-tooth bridge, or an entire dental prosthesis.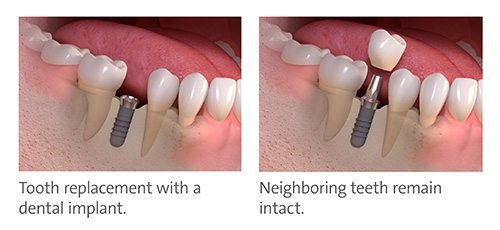 Conventional Prosthesis vs. Dental Implants – The Big Difference
If one or more teeth must be restored, you have the option to choose between a conventional prosthesis and dental implant therapy. What are the main differences?
The Conventional Bridge
With conventional crown and bridge treatment, healthy neighboring teeth must be ground down in order to support a bridge. This results in the loss of natural tooth surface. Furthermore, the bridge does not transmit chewing forces to the jaw bone, so bone deterioration may also occur.
The Dental Implant
A dental implant replaces the root of the original tooth, while the neighboring teeth remain intact without having to be ground down.
More than a dental implant. Improved quality of life.
An Implant Merges with Your Body
Even the best prosthesis will always be a separate part that requires extensive care. By contrast, a dental implant acts as a natural root that merges and integrates with the body to act like a natural tooth.
A Natural-Looking Smile
Functionality and visual appearance go together. An implant-supported restoration looks and feels like a natural tooth; there is no visible difference and no special care required.
Preserve Your Facial Structure
Implants transmit chewing forces to the jaw bone, helping to maintain your bone and facial structure. This is not the case if teeth are missing, or when a conventional bridge or dentures has been placed. If these forces cease, the bone may slowly recede and the shape of the face may change over time. Dental implants can help prevent this gradual bone deterioration, as they mimic the action of the original root.
Enjoy Life Despite Missing Teeth
Laughing, kissing, singing, and eating like before—implants can improve your quality of life. Missing teeth can cause self-consciousness and insecurity, and ill-fitting dentures can cause permanent discomfort. These inconveniences come to a welcome halt with dental implants.
Implant Restoration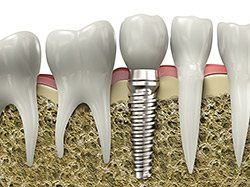 If you are missing teeth, it is crucial to replace them. Without all your teeth, chewing and eating can destabilize your bite and cause you discomfort. When teeth are missing, your mouth can shift and even cause your face to look older. Implants are a great way to replace your missing teeth, and if properly maintained, can last a lifetime!
An implant is a new tooth made of metal and porcelain that looks just like your natural tooth. It's composed of two main parts: one part is the titanium implant body that takes the place of the missing root, and the second part is the tooth-colored crown that is cemented on top of the implant. With implant treatment, you can smile confidently knowing no one will ever suspect you have a replacement tooth.
In addition to tooth replacement, implants may be used to anchor dentures, especially lower dentures that tend to shift when you talk or chew. For patients with removable partial dentures, implants can replace missing teeth so you have a more natural-looking smile.